Expert Fitting for Bifocal, Multifocal, and Hard-to-Fit Contact Lenses
---
Contact lenses are a great vision correction option for those who are ready to see the world clearly without needing to wear glasses. If you have myopia, hyperopia, presbyopia, astigmatism, or a range of other eye and vision issues, contact lenses may be for you!
Contact Lens Exams in Wyckoff
Contact lens exams are an important part of ensuring that you don't have any conditions that might make contact lens wear difficult or impossible, and testing to see which contact lenses will work best for you.
To find the perfect set of contacts for you, we'll speak to you about your lifestyle needs, medical and eye health history, and visual needs and expectations. At the end of your exam, we are often able to give you a trial pair of contacts to make sure they're the right pair for you before you commit to them long-term.
Follow up fittings
We ask our contact lens patients to come in for a follow-up appointment a few weeks after their initial lens fitting to ensure that they are having a good experience with their contacts, and to make any necessary adjustments to their prescription. It's important to ask our eye care team any questions, or voice any concerns you may have, to ensure you're getting the best contact lens experience.
Some of Our Most Popular Prescription Contact Lenses
---
These contact lenses are supremely comfortable and convenient. Because they work for only one day before being thrown out and replaced the next morning, there is no concern of bacteria or protein build-up that can cause discomfort and infection.
Bi-Weekly and Monthly Contact Lenses
---
Bi-weekly and monthly lenses are a great choice for those looking for durable, comfortable contacts that offer superior visual clarity and comfort. Some bi-weekly and monthly lenses even offer the option of extended and overnight wear, meaning they don't need to be taken out at night before going to bed.
Bifocal and Multifocal Contacts
---
These lenses are a great option for patients 40 years old and older who are experiencing symptoms of presbyopia. Speak to your eye doctor about whether bifocal lenses or multifocal lenses are the better solution for you.
Contact Lenses for "Hard-to-Fit" Eyes
Have you been told by other eye care experts that you can't wear contact lenses because of your severe dry eye, advanced astigmatism, keratoconus, or other type of eye disease or condition? If so, you should come by our eye clinic today.
Our optometric team has the training and technology to find the right contact lens fit to give you supremely comfortable, clear vision, even if your eyes are hard to fit when it comes to contacts.
Scleral lenses are a particularly effective option if you have keratoconus or other conditions that alter the shape of your cornea. This is because sclerals are made extra-large so that they pass entirely over the cornea, coming to rest on the white part of your eye known as the sclera. This allows the lens to form a kind of "replacement" cornea that provides much clearer vision for corneal conditions than traditional contact lenses or glasses could.
For more information about how scleral contacts and other types of specialty lenses can help you see better and more comfortably, speak to your eye care team today!
Our Recommended Products: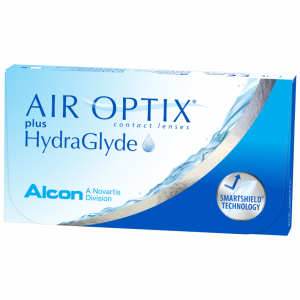 AIR OPTIX® plus HydraGlyde